Classic wine tasting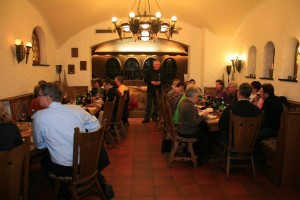 We offer guided wine tastings for groups of 10 people or more. During such a wine tasting with a tour of the company, you will receive detailed information about the wine, the Ahr valley, the grape varieties and of course our winery in a relaxed atmosphere. Our wine tastings can also be combined with a meal or a tour of the vineyards. We are happy to take reservations. Just get in contact with us .
Wine tasting offers
Every Friday at 4:30 p.m .: 4 BurgundAhr wine tasting with a cellar tour for € 12.50 per person (April-December). We look forward to your registration.
6 wine tasting and guided tour: € 16
8 wine tasting and guided tour: € 20
6 premium wine tasting and guided tour: € 22
8 premium wine tasting and guided tour: € 28
6 cheese tasting with 6 wines: 33, – €
(with six exquisite cheese specialties from the Swiss Toggenburg Churfirsten)
Champagne reception: € 2.50
Vineyard tour per group: € 80
Large vintner platter (cold; cheese, sausage, ham): € 11.50
Swiss raclette with sheep, cow and goat cheese from the Toggenburg Churfirsten region, served with jacket potatoes, ham, cucumber, corn, silver onions and bread: € 39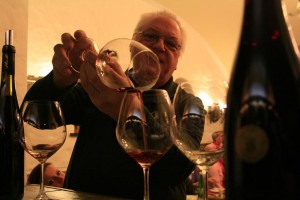 All wine tastings include water and bread. The prices mentioned apply per person with a minimum of 10 participants (if there are fewer participants, the price is set for 10 people).
Depending on the scope, a wine tasting takes about 2.5 to 3 hours, but can be made shorter if desired.
---
Wine picnic at the olive grove
Enjoy a wine picnic at our olive grove with a view of the Ahr valley.
Up to 6 people: € 250
Each additional person: plus € 39
It includes winery snacks, a 4-person wine tasting and water.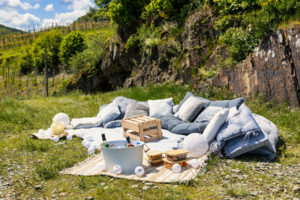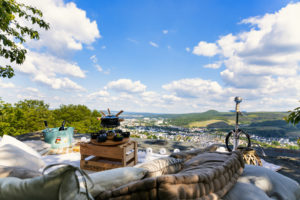 ---
Exclusive wine tastings
Exclusive 6-course dinner wine tasting with the menu at Hotel Rodderhof
Enjoy with us an exclusive wine tasting matched to a 3- or 4-course menu in the Hotel Rodderhof. Under professional guidance, you will experience a unique combination of wine and food at the highest level. When selecting the menu, we are happy to take individual customer requests into account.
Further information and accommodation options at www.hotel-rodderhof-ahr.de.
3-course: € 55
4-course: € 65
Exclusive wine tasting in Klebers kitchen
We would be happy to offer you a wine tasting with a 3 or 4 course menu in the klebers kitchen garden. The wine tasting includes 6 exclusive wines matched to the menu.
Costs for the 6-person dinner including bread and water
3 course – € 60 pp
4 course – € 69 pp
The minimum number of participants is 10 or will be billed as such.
A sample of premium wines is also possible, please contact us.
More information at www.klebers.net/weinprobe (website in german).